---
The Concept of Flipped Classroom
Sources: https://en.wikipedia.org/wiki/Flipped_classroom
https://www.schoology.com/blog/flipped-classroom
A flipped classroom is an instructional strategy and a type of blended learning, which aims to increase student engagement and learning by having students complete new material (lecture recordings, research or readings) at their home and work on live problem-solving and interactive discussions during class time. So it moves traditional homework activities into the classroom and these are supported by the teacher or facilitator. Students can better control their learning and time and get more autonomy both in classroom activities and in home studies.
You can flip the entire learning process or just one lesson - it is a very flexible model to use. But before trying flipped classroom, teacher has to make sure that all of the students can get the necessary content at home (they have internet connection and computing or smart devices)
Usually the content is delivered in the form of pre-recorded lectures or video lessons. Teachers can record content themselves or use third parties content already available on the internet (OER repositories, public resources etc).
Recording and sharing materials
Preparing materials for self-study at home is the most time consuming activity for the teachers. Usually different forms of materials are combined: illustrated texts or articles, slides with audio, video recordings, screen recordings combined with different interactions like self-control quiz, discussions or simply indicating comments or questions.
Different digital tools can be used for creating this kind of interactive materials:
Video recording
Videos are the most popular content delivery format, since it is very engaging and multimodal. Each video clip should not exceed the limit of 15 minutes! It is even better if one video is 5-10 minutes long.
The hardware you need for recording: a computing device (laptop, desktop computer), steady webcam or some kind of other video camera connected to your computer, good microphone, preferably a headset or other USB-microphone that can be attached close to your mouth.
You also need a quiet room with no echo inside, proper light if you plan to record a talking head and the short plan or scenario of your recording.
Some examples of Tallinn University ordinary working place equipped with webcam and headset and self-recording studio for teachers with a bit more professional equipment: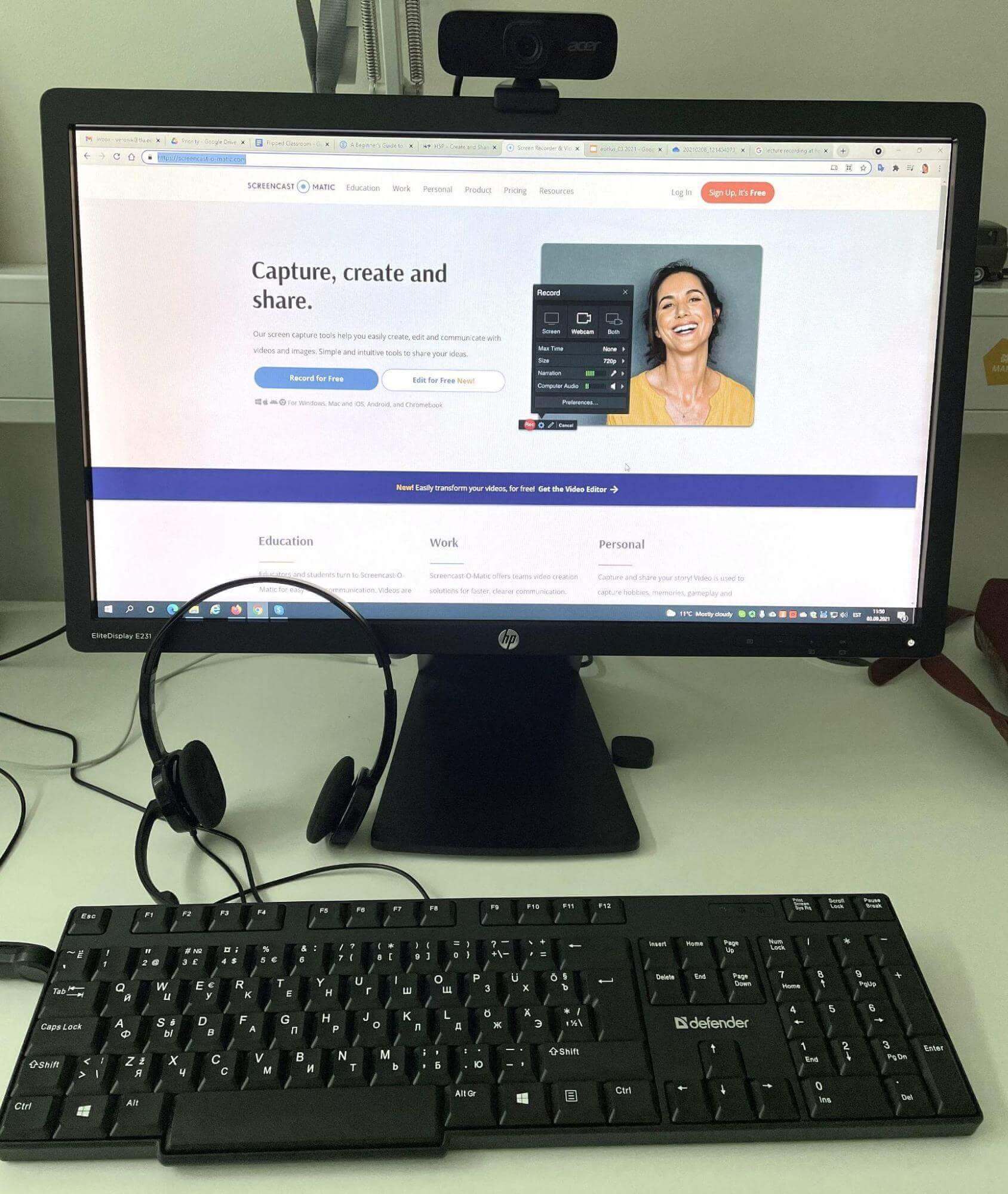 Recording software: the easiest way to record is to use a free option of Screencast-o-Matic tool. Learn more about this tool here.
Adding interactivities to video
After you are done with recording there are several options to add some engaging interactivities to the videoclip: comments, quiz-questions or other assignments with automated feedback. There are several tools that help us do it: H5P Interactive Video, Camtasia, EdPuzzle. The easiest one is probably EdPuzzle. Find out more about EdPuzzle here.
Classroom activities
Every video lesson should have a certain deadline to watch and interact with it before coming to the classroom. Class activities may be very different, for instance: solving different math problems, conducting in-depth laboratory experiments, making document analysis, debating or presenting the speech, current event discussions, peer reviewing, project-based learning, skill development or concept practice. Because these types of active learning allow highly differentiated instruction, more time can be spent in class on higher-order thinking skills such as problem-finding, collaboration, design and problem solving as students tackle difficult problems, work in groups, research, and construct knowledge with the help of their teacher and peers.
Interactive Polling and Gamification Tools
Interactive Polling Tools (also called student response systems, 'clickers', or classroom response systems) are a quick and easy method for gaining insight for both teachers and students. As with many software applications, Interactive Polling Tools are an ever-evolving technology, adapting to operate online using mobile devices.
Examples of Polling Tools:
The goal of gamification is to engage with students to inspire collaboration and interaction. Gamification works by providing audiences with proactive directives and feedback through game mechanics and game dynamics added to online platforms that lead to the accomplishments of goals and objectives. As students interact with a gamification program, they receive immediate feedback on performance and are guided towards new achievements.
Examples of Gamification Tools: