WHAT IS KAHOOT!?
Kahoot! is a free game-based learning platform that makes it easy to create, share and play learning games or trivia and works for hybrid learning and flipped classroom situations by making learning fun and engaging.
Kahoot! serves as a student-response tool for administering quizzes, facilitating discussions, or collecting survey data and can be played by the whole class in real time.
Please note that this gaming platform is free.
However it has premium paid versions with extended features.
For further information about the available upgrade, please visit the official website at https://kahoot.com/.
GETTING TO KNOW KAHOOT!
I - How to create a Kahoot!
To create a game in Kahoot! you will need to register first.
Go to https://kahoot.com/ and sign up (1).

Choose your account type.

Create an account and customize your profile. If you are signing in with an educational profile, the name and country of your institution are required.

To start, you can:
You can search and use available Kahoot! templates (2).
You can find all Kahoot! (created by you or shared with you) (3).

Or you can create a new one (4)!
In this tutorial, we will explain how to create a new Kahoot!.

After clicking on the button "Create" (3), you can:
Give a name to your Kahoot!

Write your questions here.

Associate an image or a video to your question.

Add several questions to make the challenge more interesting.

You can choose the format of your Kahoot!:
Quiz (multiple choice)
True or False
Write at least two answers. Other answers are optional. You can add images to these answers as well.
Check the right answer.
You can change the time limit for the players to answer your questions and the scoring attriuition as well.
The free version of Kahoot! only allows one correct answer.
If you exit this page, your quiz will be saved as a draft.
When you are finished, click "DONE".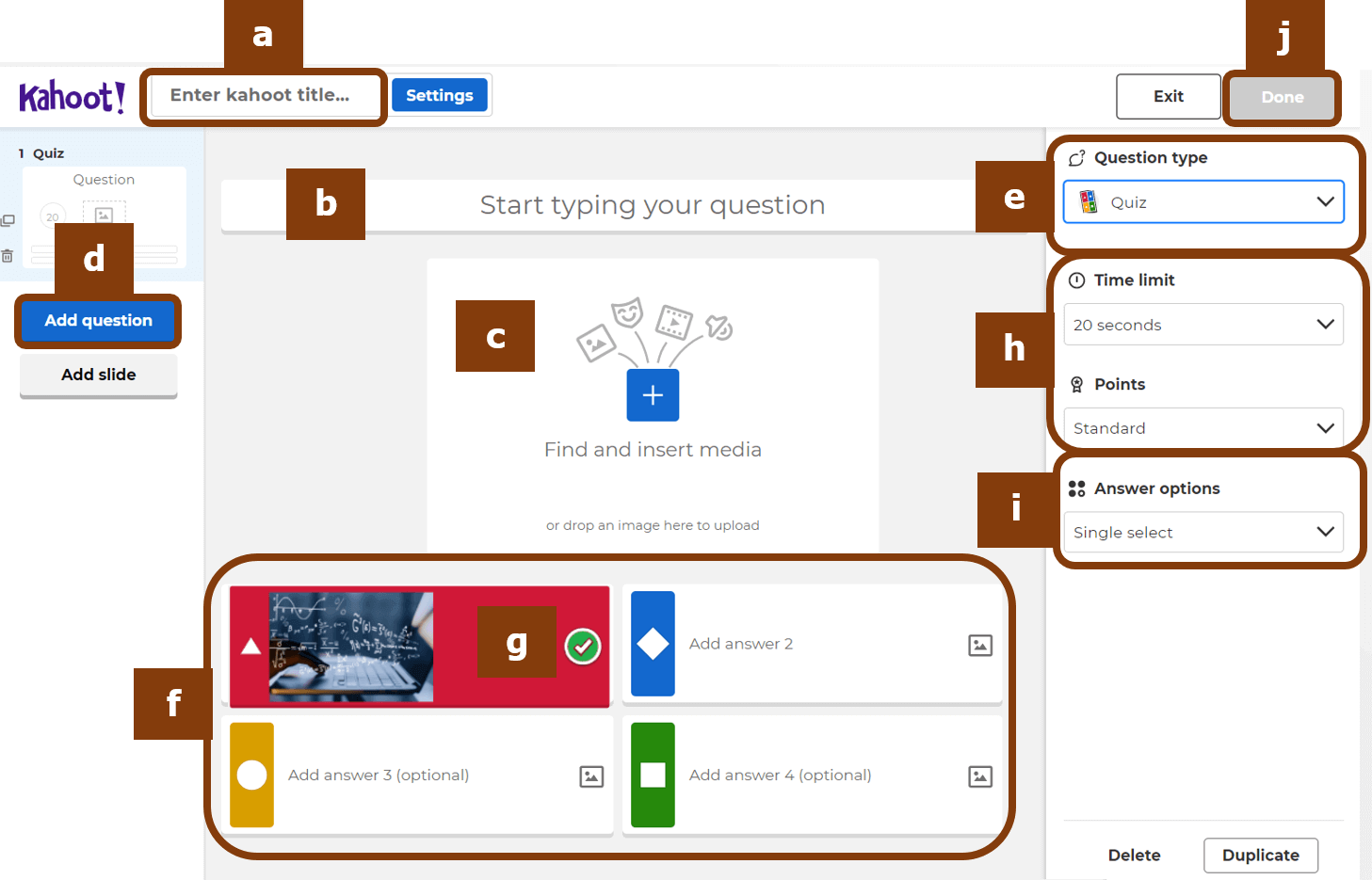 After creating your Kahoot!, you can launch the game by clicking on "Play now" (5).
You can also find your game in "Library" (6). To launch it, click "Play" (7). If you want to make changes, click "Edit" (8).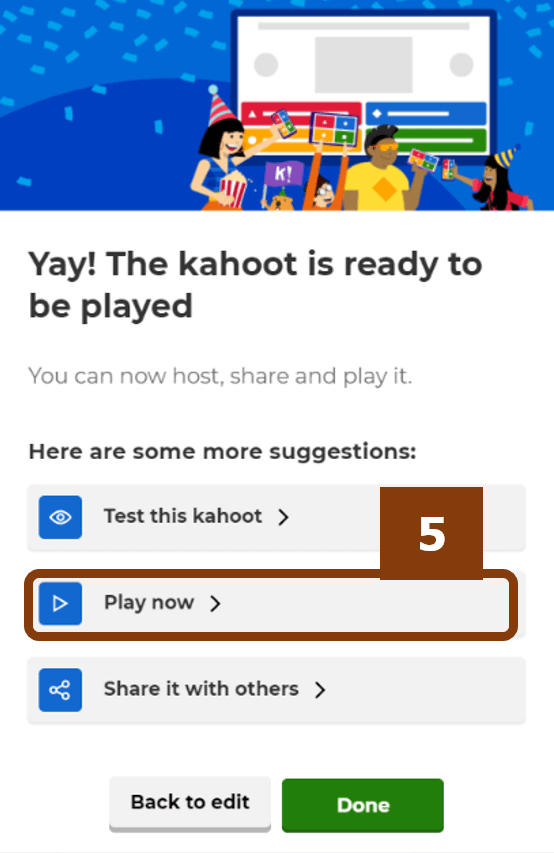 After you click "Play", the options menu will appear.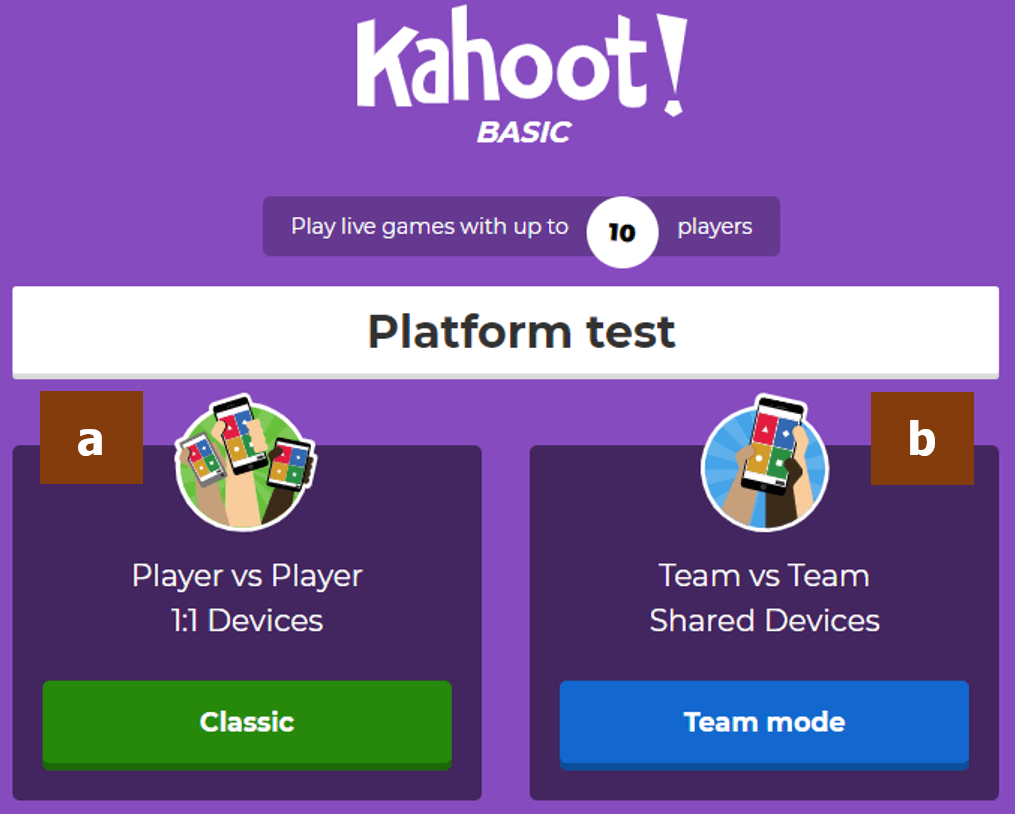 Suitable mode when all players have devices to access the game.

Suitable mode for when the network is slow or not everyone has devices to play.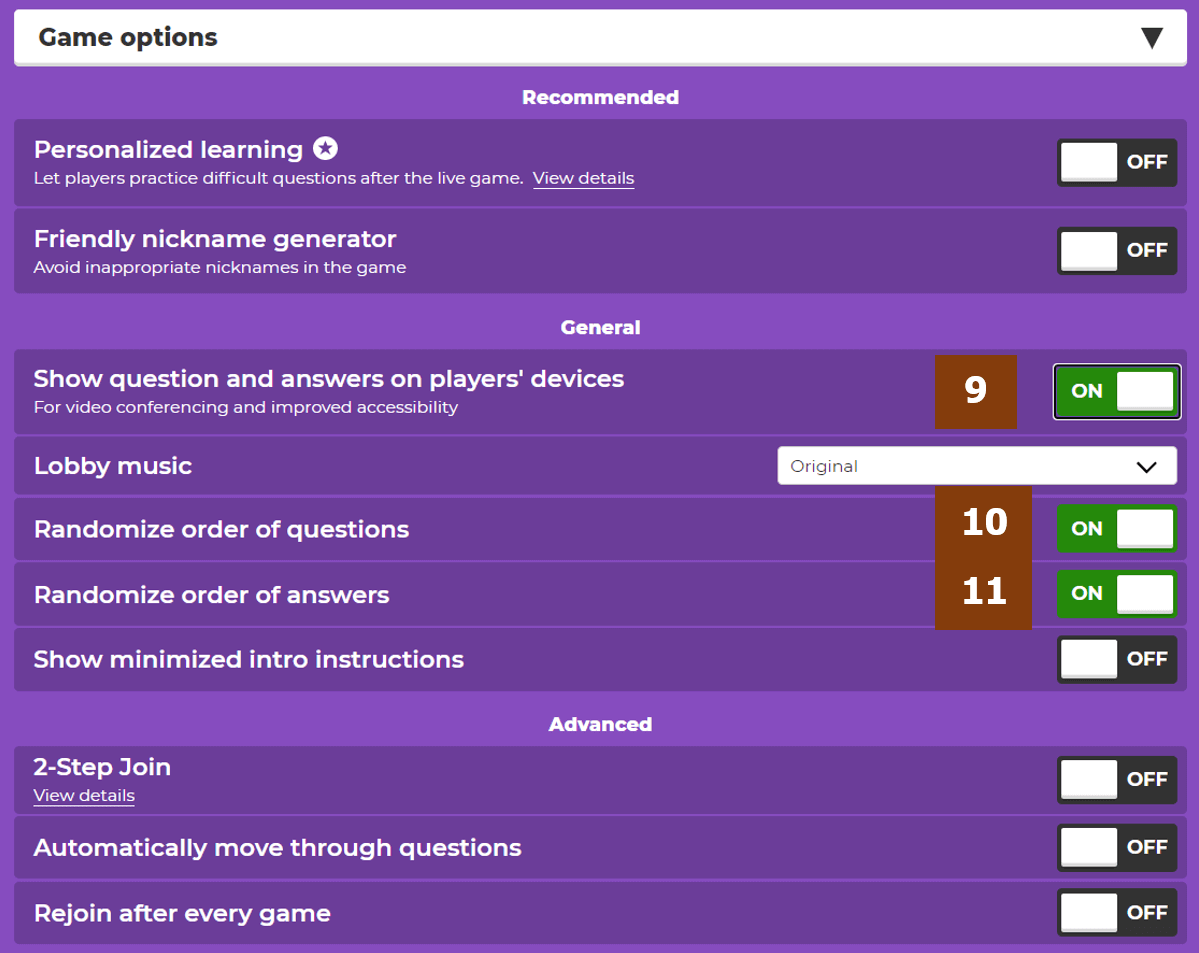 It is important to leave these three options marked ON (9), (10) and (11). The last two are essential to randomize your questions/answers, in case you wish to repeat your Kahoot!.
AND NOW, WE ARE READY TO LET THE PLAYERS IN.
The players can simply use a computer or mobile device to access the game.
Please note that the free version is limited to 10 players. Unless you upgrade your account, in order to manage larger groups, we recommend you to create teams, each one with a leader to represent it.
II - Using Kahoot! as a player
Go to www.kahoot.it or you can use the Kahoot! mobile app.

Each game will have a specific PIN number (12). The player must enter this number to access the game.

The player has to create a nickname in order to particpate in the game.

The players' nicknames will show on the screen, and then the game can start.

The question and answer choices will be displayed on the screen. The players' screens will display on the answer buttons corresponding the same color and shape to the answer choice.

Once all the players have answered the question, the correct answer will be displayed in the form of a bar graph according to the overall responses.

At the end of each question, a leaderboard will show the top five scorers.

Please note that the speed of na answer increases the players' score.

Once the game is over, winner information will be displayed in a podium and the players' screen will show their personal results and rank.

If you want to check the results of a game, you can get a detailed description accessing the "Reports" (14) tab on the main menu.
---